Getting New Blinds? Repurpose your Old Ones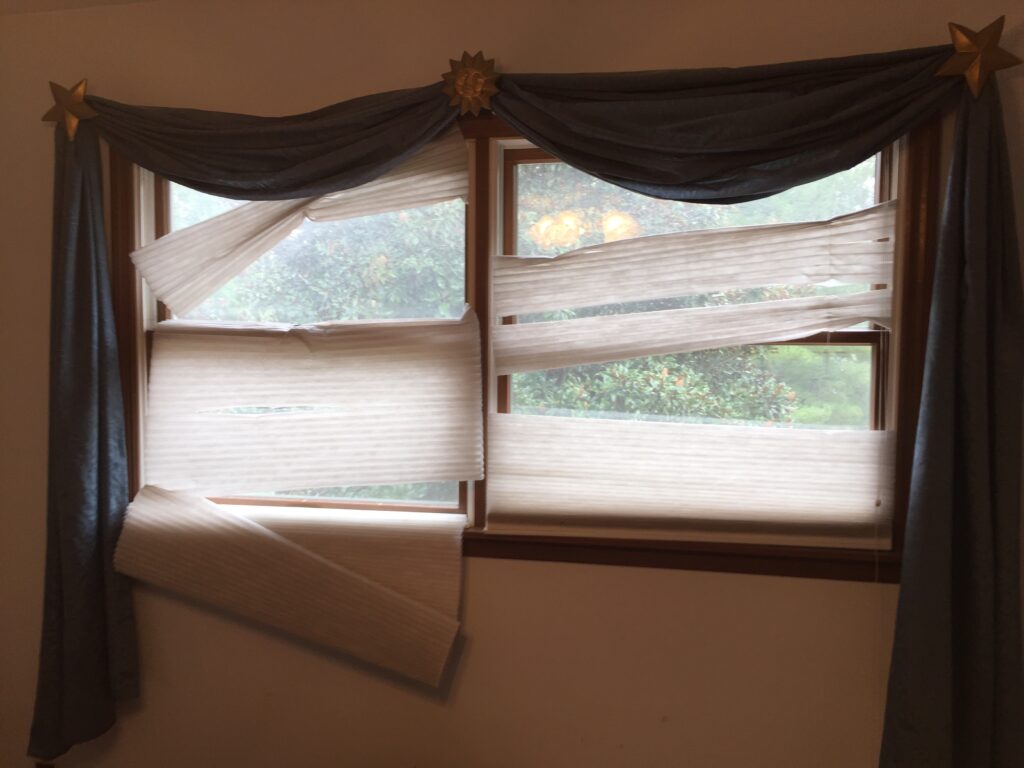 Thinking of new blinds? Many blinds can be cleaned and/or repaired at Adler's Blinds in Madeira. Our professionals can do just about any repair you might need:
a frame pulling out
damaged cords
split pleat(s)
hard-to-open blinds
broken handles
cord tensioner troubles
cord cleat issues
remote control problems
Some fixes can be done at your house, but more complex ones require the blinds to be brought into our shop. We can come to your house and take the blinds down, then bring them back once they are ready and reinstall them.
When you call, ask if the repair can be done in situ and for a cost estimate, to help you decide whether you want to invest in the repair, or replace your blinds.
When Blind Repair is Not an Option
Blinds do eventually get too old to repair cost-effectively. Other times, they become outdated. Or they just don't work with the décor anymore. In those cases, new blinds are the way to go.
But you don't have to feel guilty about adding these old friends to the landfill after your new blinds go up.
Cincinnati blinds stores like Adler's Blinds in Madeira can help you determine the right choices for your new window looks.
Once these new window treatments have been manufactured and installed, check out these ideas for giving your old blinds a second life, adapted from an article in Family Handyman:
With some simple tools like a hacksaw, a drill and a box cutter, the crafty DIYer can make an old roller blind look brand-new.
Cover bamboo blinds with a cheery fabric, and voila, they become Roman shades.
You can paint vinyl, wood or metal blinds to use as labels on boxes or bins. They especially work well as garden markers. Cut pieces from slats to label bedding plants or rows of seed.
Cut bamboo shades into strips, add painter's (not masking) tape to create stripes or a pattern, then paint.
Another idea is to paint flat blind slats blue or green for a background, then add an element such as a peacock on top in white.
Update your bed's headboard with linen blinds you are replacing. Just weave the slats over the headboard and staple to keep in place.
Transform Them into a Basket for Your Cat to Hide In
Scissors, double-sided tape, a stapler and ribbon are all you need to repurpose mini-blind slats into a lovely storage solution (or cozy cat hiding place).
Get Out Your Glue Gun to Dress Up a Mirror
Here's another artsy idea: take blind slats, trim their edges, and hot-glue them to the back of a round mirror for an eye-catching starburst pattern. Paint if desired to match the room.
An Australian artist turns wooden blinds no longer needed on windows into stylish pendant lamps.
Add Fun to Vehicle Playtime
Wooden blinds make great road barriers and road signs for child's play. Bright orange duct tape can hold the pieces in place.
Design your Next Quilt Vertically
Old bamboo blinds, arranged in a grid with quilt batting stapled to the top of each slat, provides an innovative to visualized new quilt designs. The wall can also be used to choose fabrics or display quilts in progress.
Make Bookmarks
Just cut your blind slats to size, then decorate with markers or paint and add a string, ribbon or button.
Lay a blind slat flat as a barrier when you are painting trim. Much faster than putting down painter's tape!